Lightroom Keyword List & Hierarchical Keywording Catalog for Photographers & Image Asset Management
Need more sales? Its all about getting YOUR images noticed...
Whether you are a stock photographer selling images online, or a professional organizing a catalog containing many thousands of photographs, its vital that YOUR images can be easily located. The key to locating images is to have them correctly keyworded, and the key to good keywording is to have a comprehensive and well-structured list of keywords that can be easily accessed during the keywording process.
But what should the list contain? Is bigger always better? How should it be structured? Which categories should be used? What about geographic entities? How about a list that is personalized to my own location? What about specialized lists? What about value for money?
This website contains a variety of articles about the theory and mechanics of Keywording, plus the tools and resources you need to better keyword your own images and sell more pictures.
What should the list contain?
To make your job easier, what's needed is an encyclopedic list that covers all aspects of your photographic work, yet hides its complexity until you need it. The terms provided should be thoughtfully organized in a hierarchical structure, and easy to access by a logical progression through parent categories. A list that can be used instinctively, so you can concentrate on the task at hand without needing to know what's happening in the background. A list that can be expanded as and when required, with the chance to add specialized lists that suit the subjects that are important to YOU.
Is bigger always better?
A database that lists all the owls of Africa, French cooking implements, or 26 Icelandic snow-types are all very well if that's what you are photographing, but for most people, filling a database with un-needed keywords just clogs your computer and slows down the processing time. A well-made list should be comprehensive without being overwhelming.
How should the list be structured?
Keywords should be arranged in a well-ordered nested hierarchical structure, with like terms arranged in a broader term > narrower term relationship, and general terms grouped together under easily understandable headings.
Example: Geographic Location > North America > USA > Ohio > Cleveland
There are three reasons for choosing such a hierarchical structure to organize your photos:
It's quick to locate the Keyword you need by a logical progression through sensible groupings - When viewing your image, certain keywords will come readily to mind. A well-designed list makes them easy to find because relevant terms are grouped together.

It's easy to locate the Keyword that expands your original description - Once a topic has been opened, other keywords should suggest themselves, helping you to refine your description until you are satisfied that it can't be improved.

It's important that no aspect of the image description is omitted - Photo buyers expect your image to be keyworded in the correct way, to include words that describe the technical as well as the visual aspects of the scene. Its not just to do with Who or What is in the image - a good list will help you describe Where and When it was taken, also Why and How.
Which categories should be used?
It is vital that the categories chosen are logical, easy to understand, and easy to work with. The only purpose of a Keyword List - lets not forget this - is to help you to find the keywords that you need in a quick and speedy manner. It is therefore important that the words in the list are where you would intuitively look for them.
Here's how the 'Photo-Keywords.Com list is put together:
The MAIN GROUPINGS: WHO, WHAT, WHERE, WHEN, WHY, HOW, and SPECIALIST.
WHO is in the image? All about the people in the image: their Age, Relationship, what they look like, what they are doing, what their Occupation, Participation, or Hobby is.

WHAT is the subject in the image? Describing the Objects and their Materials, their Number and their Arrangement in the image.

WHERE was the image taken? Describing the Geographical Location where the image was taken, and any Celestial, Land, Marine, or Water Features.

WHEN was the image taken? Describing the Time of Day when the image was taken, the Season, plus any special Festivals, Celebrations or Ceremonies.

WHY was this image taken in the first place? Describing the Activity happening in the image, the Adjectives describing the subjects of the image, the Concepts that tell the story of the image, and the Emotions that talk about the feeling behind the image.

HOW was it made? Describing the Photographic techniques that were used in creating the image and which will help photo-buyers narrow their choice to your photo: lighting, background, format, framing, perspective, or dominant colors.

SPECIALIST: Here is the area where you can add Specialist Lists that apply to a narrow field of interest. Create your own, or download free from this website.
There is more information about the Categories used on the Categories page. If you want to see the Categories that other list makers use, visit the links on the Resources page. The 'Photo-Keywords.com' Hierarchical Image Keyword Catalog currently contains approximately 33900 terms, split into 7 main categories, 100 sub-categories, and 819 sub-sub and deeper level categories. Note that those figures don't include local Geographic entities, which are in addition to the above. See the Purchase Page for a list of the total terms for each of the 119 different versions.
What about Geographic entities?
Just like keywords, there is no point filling a list with a lot of geographic entities (states or cities) that you are unlikely to be interested in. If you are a photographer from England, it would be useful to have a list of all those towns and counties to work from. If you are from Texas, it would be useful to list all the populated places from there. If these two don't apply, there's no point having those details. That is why the 'Photo-Keywords.com' Hierarchical Image Keyword Catalog is so unique: there are currently 119 different versions, carefully chosen to match the area YOU are interested in. All the US states, commonwealths, and territories are there, with the populated places for each one. There's also different versions for Australia, Canada, England, Northern Ireland, Scotland, Wales, and many other European countries, listing those states, provinces, or counties with their own populated places. If you are a world traveler you can choose a version with every country and state in the world. If you are after a minimalist list, you can choose just the countries of the world, or the countries of the world + the US states. You choose - they all cost the same price. If you want a version for another country not listed, just ask, and I will try my best to help you.
How about a list that is Personalized to my own location ?
Each version of the 'Photo-Keywords.com' Hierarchical Image Keyword Catalog (excepting some European countries) has been personalized to the area that you choose in a variety of ways:
American-English and British-English spellings - All North American versions of the list use American-English as the primary language, and provide the British-English equivalent spelling as a synonym. All the versions for Great Britain: England, Northern Ireland, Scotland & Wales do the opposite. There are currently 500 separate US/UK english word-pairs that get updated each time the lists are built.

'HISTORIC SITES' & 'NATURAL SITES' - both of these sections are uniquely tailored to your locality. The U.S. versions contain lists of local historic sites, memorials, monuments, battlegrounds, and national cemeteries in the 'HISTORIC SITES' sections, and national forests, parks, lakes, preserves, recreation areas, seashores and wilderness areas in the 'NATURAL SITES' sections. A similar localized list is included for other countries, and is unique to them.

Local Wildlife - each version has lists of Birds, Mammals, Trees, and Wildflowers that live and grow in your area. Entries are sorted by common name, with the scientific genus and species names too. When tagging plant and animal life, it is important that these are included in your set of keywords.

National Festivals & Public Holidays - each version lists the important annual holidays and events that occur in your part of the world.
What about Specialized lists?
Whilst some list makers may be tempted to add information on any subject that they can get hold of, my approach tries to draw a sensible line between those things an average photographer might encounter, and those things that are far too specialized for 95% of my audience. For instance, I list the common birds you'll see in your town and local countryside, but not every type of African owl. I list local wild flowers, but not Orchids of Sumatra or species of Sub-Antarctic moss. As you work through your own photos, missing categories can be added or expanded, and these specialist lists can be added to the end of the master list, in a section specifically provided for this purpose. Think of it as a 'My Documents' area to personalize as you wish.
What about value for money?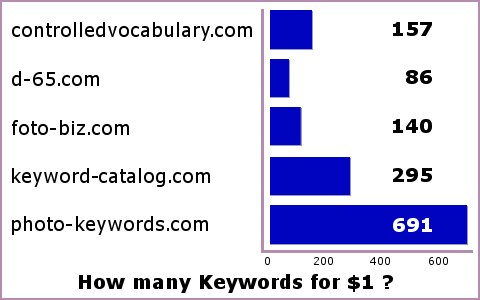 Not only is the 'Photo-Keywords.com' Keyword List exceptionally well researched and intuitively organized for quick and easy keywording, it also represents tremendous value when compared with any of the other commercial keyword lists. See the
Online Resources
page for more details.
How much is your list, and how do I buy it?
Each version of the 'Photo-Keywords.com' Hierarchical Image Keyword Catalog costs the same: just 49 USD. To purchase the Image Keyword Catalog, visit the
Purchase
page.
If you need any additional help or questions answered, please contact me. Tim Makins at Google+